July 12, 2023
It is a big week here at The Equipped, as we are partnering with our dear friends at Faith Radio to add a radio and podcast option for our weekly content! You can find more information or listen in at any time here. Thank you for being a valued part of The Equipped community!
---
The True
All Stirred Up
Everyone is all stirred up. A feeling of urgency, anxiety, and strife is a marker of our days. It makes the instruction you and I find in Psalm 133:1 feel like more than a bit of a stretch: "How good and pleasant it is when God's people live together in unity."
How is that possible? In a world marked by division, and one that is constantly pulling us apart, how can we be a people who lead good and pleasant lives marked by unity? God's Word suggests the answer begins with reestablishing a shared language of the Gospel.
You are likely familiar with the story of Babel in Genesis 11, when the people decided to build a tower that "reaches the heavens" (v. 4). You very well may also remember the people wanted to "make a name for ourselves" (v.4). But did you know the people were ultimately trying to prevent being "scattered over the face of the earth" (v.4)? The people of Genesis were dealing with the very same pull of division we face today, and when God found it necessary to disrupt their tower building plans, He did so by eliminating their shared language. The text says God "confused their language" and "scattered them over the face of the whole earth" (v. 7- 9).
I'm struck by how this division of language persists even today. Certainly, there are numerous literal languages spoken around the world, which can be a beautiful display of God's creativity. But more to the point, consider this: Regardless of the language we speak, how many of our divisions actually stem from having no shared understanding? Whether it is religion, politics, or cultural norms, we largely disagree on even the basic meaning of words. What you mean by your words is often not what I understand them to mean, and what I am trying to convey with my words is very often not what you receive. When we don't share the basic building blocks of language--when our language is "confused," to use the Babel terminology, it is nigh impossible to live as "one in Christ Jesus" (Gal. 3:28).
Yet we have hope! We have the promise of Rev. 7:9, which tells of a "great multitude that no one could count, from every nation, tribe, people and language, standing before the throne and before the Lamb."
Our divisions seem daunting, but they are temporary. One day, our collective vision will come into unified focus (1 Cor. 13:8-12). Until that day, things will often feel all stirred up around us. But even in that setting, you have a higher calling. You have the shared language of the Gospel of Jesus Christ, and you and I are called to use that shared language to stir each other up, and to do it not toward division, but "toward love and good deeds" (Heb. 10:24).
---
Technology
Social Chaos
Social media platforms have been leading the news in recent days. Consider even just the following three examples:
1) Twitter announced sweeping changes to limit the number of tweets each user can read each day.​
2) Meta (formerly Facebook) launched Threads, a platform to rival Twitter, and reached 100 million users within five days.​
3) A federal judge affirmed a previous court order that blocks federal officials from attempting to influence content decisions on social media platforms.​
Analysis and eternal perspective: Candidly, it is overwhelming. Even for those who aim to harness the power of social networking platforms for good, the rate at which these and similar technologies are gaining influence is staggering. How is a Jesus follower to navigate in such a space? How can we be light in such a vast and chaotic din of noise and activity?
You should start by proactively seeking wisdom as you evaluate whether and how to use social media platforms. Proverbs 2:11 says, "Discretion will protect you, and understanding will guard you." You and I should not let cultural norms dictate our decisions in this, or any other, area. We should use guidance from God's Word to carefully evaluate whether and how to engage with these platforms.
Next, if you decide to engage, it would be prudent to proactively moderate your consumption. Proverbs 25 warns us twice against eating too much honey (vv. 16, 27). In other words, even a good thing becomes a bad thing if it is consumed in too great a volume. Social media platforms are designed to curate information in a way that will hook you in and extend your time on the platform. We should intentionally guard against that in order to remain focused on all that is True and beautiful (Philip. 4:8). You have likely heard the phrase before, but it is helpful to remember that if the product is free, you are the product.
We are incredibly blessed to live in a time when it is so easy to communicate with so many in real time. By contrast, Paul's letters had to travel by boat, in many cases! But that blessing comes with responsibility, Let's steward it well.
---
U.S.
Déjà Vu
The federal spending process is once again front and center in Washington, DC, as both the U.S. Senate and U.S. House work to approve appropriations bills before the fiscal year ends on September 30. Neither chamber has approved any of the twelve appropriations bills that together fund the government. The slim Republican majority in the U.S. House is struggling to find consensus on spending levels, while only two of the twelve bills have even been reported out of committee by the narrow Democrat majority in the U.S. Senate.
Analysis and eternal perspective: As we've reminded ourselves repeatedly here in The Equipped community, it is important to resist the inevitable rhetorical crescendos that occur every time spending "deadlines" approach. While it is exceedingly obvious our government has an out-of-control spending problem, the predictable ebb and flow in the volume of the appropriations process is not aimed toward a solution. Neither party has demonstrated a resolve to spend less than we take in, and we do ourselves a favor to acknowledge that fact at the front end of this year's process (which—spoiler alert—will again result in breathless Washington drama that builds up to the September deadline, but does not produce a meaningful solution). It will take a fundamental shift in approach to achieve a substantive solution.
As Jesus followers, we should decline to be taken in by the rhetorical Washington games. Instead, we should encourage our elected leaders to steward our resources wisely (Pr. 21:20), while also personally making sure that both our treasure and our heart are set on the eternal (Matt. 6:19-21).
---
U.S.
Chemical Weapons Destroyed
​The United States has no more declared chemical weapons, according to Defense Department officials. This eradication of the country's chemical arsenal was a goal the U.S. had been working toward since 1997, when the U.S. Senate ratified the Chemical Weapons Convention. The last of what was once more than 30,000 metric tons of declared chemical agent was successfully destroyed on July 7, 2023.
Analysis and eternal perspective: The natural question—an answer to which only time will tell—is, How much undeclared chemical weapon material exists around the world? The answer is certainly more than zero. As Jesus followers, we should always endeavor to be peacemakers (Matt. 5:9), while also taking seriously the reality that our current world will one day pass away (1 John 2:17). We can be confident and secure as we serve those around us, because our true citizenship lies in heaven (Philip. 3:20), where nothing—including chemical weapons—can destroy.
---
The Beautiful
Fixated on the Son
When a sunflower is young and growing, it fixates on the sun, tracking it across the sky from sunrise to sunset. May our lives take on a similar characteristic—may you and I be fixated on the Son, and may we praise His beautiful name from "the rising of the sun to the place where it sets" (Ps. 113:3).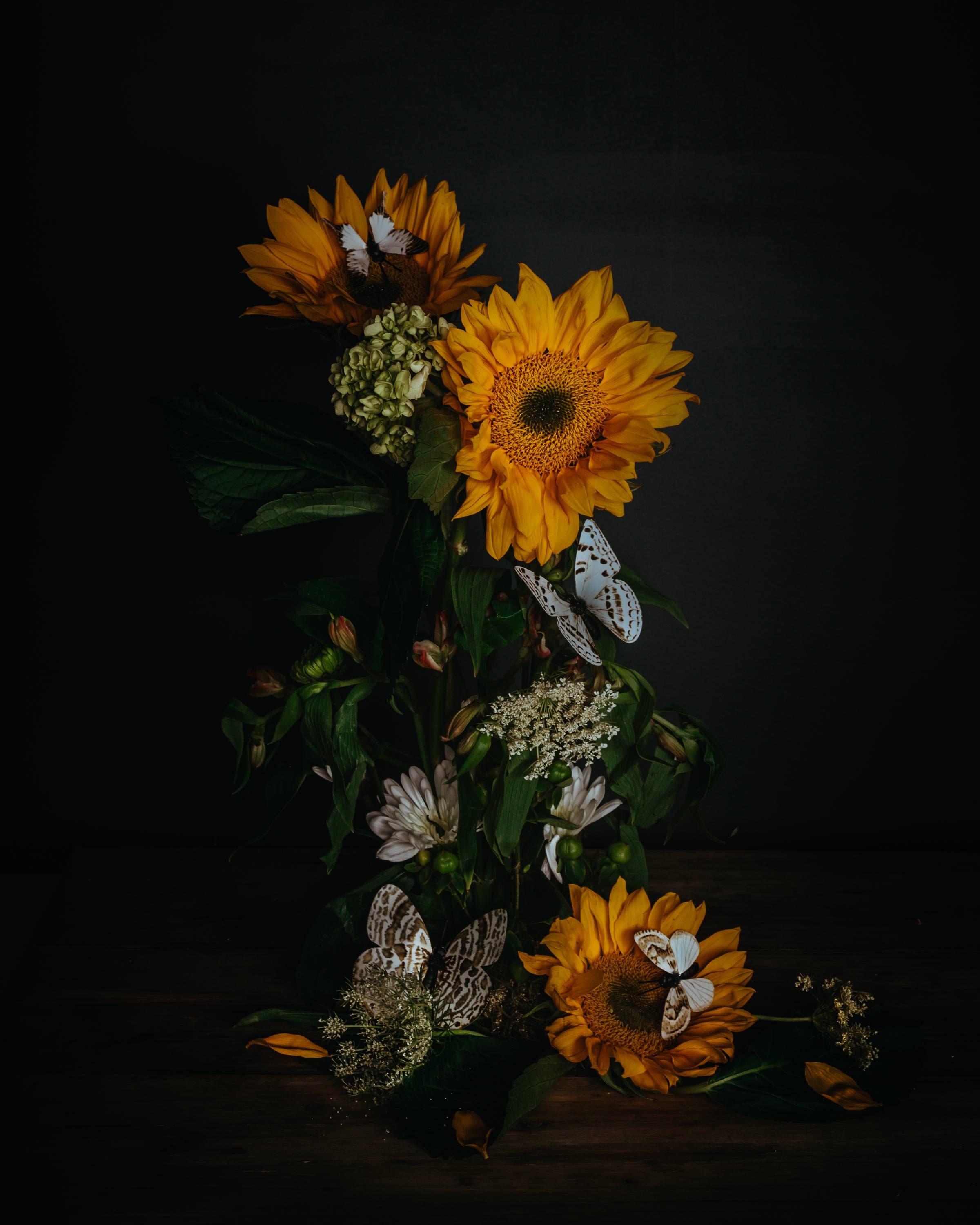 ---
Keep your eyes fixed on the Son this week as you serve those around you! Together, let's stir each other up to love and good deeds! Finally, don't forget to check out the broadcast version of The Equipped, and invite your friends to subscribe!
---
Share with friends, get fun rewards!
Invite your friends to try out The Equipped by using this unique-to-you referral link, and earn fun rewards when they subscribe!
PS: You have referred [RH_TOTREF GOES HERE] people so far
See how many referrals you have