June 28, 2023
The Equipped community continues to expand! In fact, we are so excited to announce we are partnering with our dear friends at Faith Radio to launch a radio version of The Equipped beginning July 15! We pray this new option provides all of us with one more foothold by which to view all things through the lens of both the True and the beautiful. Stay tuned to this space for more information on how to listen! Thank you for being a valued member of The Equipped community!
---
The True
I Have had Enough, Lord
"I have had enough, Lord." Have you ever felt so desperate, and so pressed by your circumstances, to pray such a prayer? I sure have, and I have been tempted to regret it in hindsight. After all, who am I to remind my Maker of the limits by which He designed me? Who are you to have the audacity to complain about your trials? As a result of these questions, you and I are tempted to regret our own cries for a reprieve.
But then I read 1 Kings 19, and I find the great prophet Elijah tormented by the same feelings of simple exhaustion. The evil Jezebel is out to kill him, and verse three says Elijah "ran for his life." Then in verse four, Elijah cries out to God with a confession that he simply has nothing left:
"I have had enough, Lord . . .Take my life; I am no better than my ancestors."
Elijah—you know, the legendary prophet of God who called down fire from heaven in a showdown with Baal's prophets, and who worked countless other mighty miracles in God's power, THAT Elijah—is finished. He is out of gas. He is done, and he asks God to let him die.
First, if even Elijah can get to this point, let's not be surprised when you and I find ourselves empty and exhausted. Life on earth can be hard. Our God knows it is true, and He is big enough and strong enough to catch us when we throw ourselves upon Him in a last gasp of desperation.
Next, God responds to Elijah by giving him a nap, some hot food, another nap, some more food, and then causing him to journey to a place where God would pay him a personal visit and give him instructions for the road ahead! No joke! You can read the account for yourself in 1 Kings 19:5-18.
The point for you and me today is this:
God already knows you have limitations. He designed you that way. In fact, He did so in order for you to need Him. He made you exhaustible that He might fill you. He can handle your expression of weakness and your dependence on His strength. He stands ready to lead you to rest, reprieve, and recovery. Further, He has purpose in mind for your life, and He longs to visit you to impart that purpose.
You may have had enough. You may feel out of gas. But the God of Elijah is your God. He will grant you rest, restore your strength, and renew your call to His side and into His service.
---
World
No Honor Among Thieves
In what could have easily been a scene from a Hollywood blockbuster movie, but instead played out in real life and with real lives on the line, Russian President Vladimir Putin faced an apparent coup attempt led by his longtime ally and leader of the infamously brutal Wagner mercenary group, Yevgeny Prigozhin. It all played out over the course of only a day, with Prigozhin leading his forces (reportedly as many as 25,000) from Ukraine into the Russian city of Rostov-on-Don, where they took control of a Russian military facility. For a few hours as the Wagner group pressed north, it seemed there would be a bloody clash in Moscow itself.
However, in another Hollywood-like twist, Belarusian President Alexander Lukashenko brokered an apparent truce between Putin and Prigozhin, in which Prigozhin would call off the operation in exchange for promised amnesty for his men and him. Putin described the day's events as an "armed mutiny" that was put down by Russian forces, while Prigozhin called Wagner's actions a "march for justice" that were never intended to spill Russian blood.
Analysis and eternal perspective: "There is no honor among thieves." The well-known saying comes to mind when trying to grasp what really took place in Russia. It certainly seems clear there was more to the situation than what is visible on the surface.
This was a conflict—manufactured or not—between reliably untrustworthy entities. Proverbs 25:19 feels like it was written for this very situation when it says, "Like a broken tooth or a lame foot is reliance on the unfaithful in time of trouble." On one side is President Putin, who has been engaged in a violent attempt to conquer Ukraine for nearly a decade. On the other side is a mercenary group known to have committed a long list of gruesome crimes, including mass executions. We as Jesus followers should posture ourselves accordingly, and should decline to put our faith in a solution that will ultimately be like a broken tooth or a lame foot.
This week's events in Russia are yet another clarion call to prayer and action on behalf of the Russian and Ukrainian people caught in the crossfire of this war. President Putin's insatiable appetite for conquest has resulted in the suffering of millions. As we in The Equipped community regularly remind ourselves, our call is to "defend the oppressed" (Is. 1:17).
---
U.S.
Guilty Plea
Hunter Biden, the son of President Joe Biden, has agreed to plead guilty to two charges of tax evasion totaling more than $200,000, as well as acknowledge violation of a federal gun law. In exchange, prosecutors are recommending probation, but a final decision from the judge is still to come.
Analysis and eternal perspective: In what is becoming a regular practice for us in The Equipped community, we should start by resolving to soberly review the facts of the case, and ultimately focus our primary attention on our role as Jesus followers.
First, the facts. In every criminal case, a defendant in our judicial system is entitled to be presumed innocent until proven guilty. A defendant may, however, choose to admit guilt rather than go to trial. This is often done as a way to secure reduced penalties. Hunter Biden has chosen to relinquish his presumption of innocence on these charges, and has acknowledged his guilt. In exchange, prosecutors are recommending a sentence far lighter than he might otherwise have received (each of the tax charges carried a maximum sentence of a year in prison and a fine of twice the amount evaded). You can read the court filings acknowledging guilt here.
What is our role as Jesus followers? First, regardless of our political affiliations or inclinations, we should maintain a sound mind (2 Tim. 1:7). Much of the commentary surrounding this story will have a particular agenda—either for or against Hunter Biden—ingrained in it. To the extent we spend time with this story, we should endeavor to keep a sound mind and consider all the facts in the case (Pr. 18:17).
Next, it is very tempting to use the legal challenges of a political ally or foe for divisive purposes. As we've covered here at The Equipped, there are currently several pending cases against high-profile political figures, and it is the cultural norm to amplify charges brought against those we dislike while minimizing charges brought against those we support. We should resist that temptation, and again heed Isaiah 1:17 by seeking equal justice under the law. Equal justice should mean that everyone, regardless of status or party affiliation, is both subject to the law and entitled to its protections.
This is not an easy task. But with cases pending against a wide variety of political figures, we have a prime opportunity to demonstrate a Christ-like response by truly standing for, and seeking, equal justice under the law across all of the cases.
---
World
Catastrophe Under the Sea
​A submarine-like vessel imploded on its way to explore the wreckage of the Titanic, which rests approximately 2.5 miles beneath the surface of the Atlantic Ocean. The wreck claimed the lives of all five people on board, including the owner of the expedition company in charge of the trip and four paying clients. A five-day search ensued, which eventually resulted in the discovery of the vessel's scattered debris.
Eternal perspective: As we grieve with those who are grieving, we should be mindful that each of us has but a short time in this temporary place. James 4:14 says our lives are a "mist that appears for a little while and then vanishes." Far from being morbid, it is a reminder to live sold-out for things that will last into eternity. We serve a God who set even the limits of the vast ocean in place (Job 38:8-11, Pr. 8:29, Ps. 104:9, Jer. 5:22). Our time in these fleshly bodies is fragile and fleeting, but our eternity with the Creator God is secure and eternal!
---
The Beautiful
The God of Light
This is beyond my pay grade, but when Brooke plans a photograph, she is constantly thinking about the light. Where is the light aimed? What is it revealing? What shadows is it casting? What is it accentuating, and what is being hidden from it?
In a similar fashion, our God is the embodiment of light.
His presence brings shape and form and life.
He sees the otherwise unseen.
He pushes back forces of darkness and allows us to walk boldly and transparently in the perfection of His Son.
His Word illuminates our path.
Brooke and I pray God's light in your life today. May it heal, and reveal, and restore. May it comfort, and warm, and guide. And may you reflect His light as you turn now to face the world.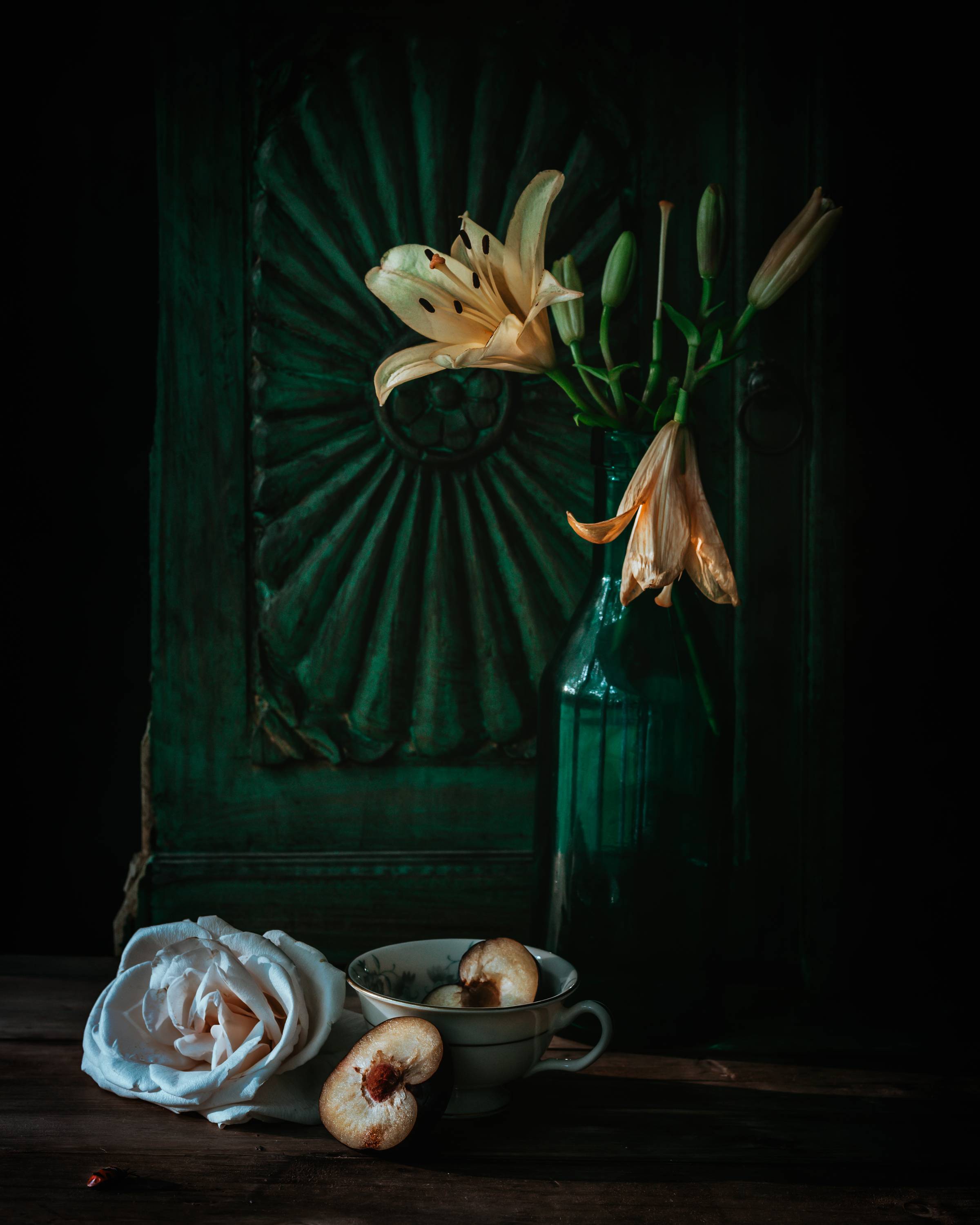 ---
Support the Mission
The Equipped exists to provide Jesus followers a foothold in navigating our turbulent times. We have the relentlessly optimistic belief (based on the promise of 2 Tim. 1:7) that perilous times are fertile ground for the power and love of Jesus Christ to be made known!
We want everyone to join in as we grow together. The Equipped will always be free, so please invite your friends!
We also invite you to financially support The Equipped and help sustain our growth. You can give one time at any level you choose, and we are particularly seeking those who would choose to become paying subscribers on a monthly basis (for as little as $5/month). If you find value in The Equipped, would you consider becoming a paid subscriber today?
Thank you for being a valued member of The Equipped community!
---
You may have had enough. But God's light is shining through you to a world in need. He will restore your strength and illuminate your path!