October 25, 2023
The Equipped community continues to grow! Thank you for helping to spread the word, and for aiming your life toward The True and the beautiful! Don't forget to check out the podcast version of The Equipped, or listen live on Faith Radio!​
---
The True
Then They Remembered His Words
Five words. Just five words in the middle of a narrative of the most important event in the history of the world. Five words that changed everything then, and can still change everything now.
The scene is one of grieving. It is very early in the morning, and their beloved friend Jesus has been dead for three days. As was their cultural custom, some of the women closest to Jesus prepared some spices and made their way to the tomb. Their plans and their preparations were predicated on finding a dead body in the tomb—plans that were shockingly upended when two men adorned in light greeted them with a reminder: "Why do you look for the living among the dead? He is not here; he has risen! Remember how he told you, while he was still with you in Galilee: 'The Son of Man must be delivered over to the hands of sinners, be crucified and on the third day be raised again'" (Lk. 24:5-7).
As shocking and transcendent as that proclamation is, the next five words in the narrative are perhaps equally so:
Then they remembered his words (v. 8).
On the one hand, what an unbelievably awesome gift for these women who loved Jesus to be able recall the transcendent words of their Savior! What comfort it must have given them! Further, it is among the greatest treasures you and I continue to possess today. The Creator of the universe and the Savior of the world has gifted us His Word to recall in time of need! We should bask in this gift, and we should remember both the words and the deeds of our Lord (Ps. 77:11)!
Yet, am I alone in asking, "NOW you remember?!" Only now, after the Messiah has been crucified, dead, and buried for three days do you remember that He told you He was going to rise from the dead on the third day?! Maybe it is just me, but that strikes me as something pretty unforgettable! How could they have forgotten? What might have been different during those three days had they remembered?
Listen close, friends! You and I are figuratively in those three days!
Our Savior—the same One who went to the cross and was raised from the tomb visited by the women on that morning—was with us in human form for a time, but now has gone ahead of us to prepare a place for us (Jn. 14:3a).
Here is the challenge for us today—let us not forget His words to us! Let us not need reminding on the day He returns of these words He gave to us as He left:
"I will come back . . ."
"I will come back and take you to be with me . . ."
"I will come back and take you to be with me that you also may be where I am" (Jn. 14:3b)
He is coming back for us, and that remains true whether you and I remember it in the interim or not. But how much better if we remember it now! How much better it is if we walk in remembrance of His words rather than need reminding of them after the fact!
On that day, let it not be said of us, "Then they remembered His words."
Rather, let it be said of us, "They lived ever mindful of His words!"
---
World
Hostages and War
As Israel's effort to eradicate the Hamas terrorist network continues to ramp up, the families of more than 200 hostages taken by Hamas continue to wait and pray for the safe release of their loved ones. Those hopes and prayers were buoyed somewhat when Hamas selectively released a handful of hostages, including an American teenager and her mother, as well as two elderly Israeli women. As is true with so many aspects of the ongoing war, even this bright spot was marred with grief, as the husbands of the two women were not released and remain in Hamas custody.
Meanwhile, Israel continues to prepare for a widely-expected ground invasion of Gaza as part of its effort to root out the entrenched terror network. Israeli authorities have ordered civilians to evacuate Gaza City to escape harm's way, but Hamas is known to intentionally embed with civilians for the dual purpose of sheltering and maximizing sympathy when civilians are killed.
Analysis and eternal perspective: We begin by rejoicing for the return of the first few released hostages. I have had a front row seat for previous similar situations, and it always brings to mind Ps. 126:1, "When the Lord brought back the captives of Zion, we were like those who dream." Our rejoicing should intermingle with tears as we continue to comfort those who wait for news of their loved ones—including two wives who are now undoubtedly focused on the fate of their husbands who remain in captivity.
As we've previously discussed, this is an incredibly complex stage of the war. As The Equipped community, we are holding fast to four overarching principles we are called to in God's Word. Today, as we consider the hostages and the looming ground invasion, we are particularly mindful of these two difficult-to-reconcile truths:
1) Every person has eternal value, is made in the image of God, and is in fact a reflection of God's very image (Gen. 1:26).
2) Authorities (be they over families, communities, or nations) have a sacred duty to protect those within their charge (Rom. 13:4).
Let's continue to pray fervently over the entire Middle East region, and let's hold fast to Truth even while cultural forces pull in so many competing directions.
---
U.S.
Three More Guilty Pleas
Three more defendants—Kenneth Chesebro, Sidney Powell and Jenna Ellis—have entered guilty pleas in the ongoing election fraud case in Georgia. The pleas from Chesebro and Powell came roughly a month after Scott Hall pleaded guilty in the case, and just days before Ellis did the same. Chesebro's guilty plea was to a felony charge of conspiracy to commit filing false documents, while Powell, in exchange for felony charges being dropped, pleaded guilty to six misdemeanor charges related to election tampering, and Ellis, in exchange for the dismissal of other counts, pleaded guilty to one misdemeanor charge of aiding and abetting false statements and writings. All three plea deals include agreements to surrender documents and testify against other defendants.
Analysis and eternal perspective: The legal cases pending against both the Biden and Trump families (and associates) continue to be among the most difficult to navigate in a fashion consistent with 2 Tim. 1:7, where we are called to shun fear, and lead lives marked by power, love, and sound minds. As The Equipped community, we will continue to endeavor to collectively lay aside our varied political opinions in order to honestly evaluate the merits of the charges against both those we are favorably inclined to and those to whom we are unfavorably inclined. This approach is consistent with the admonition in Pr. 18:17 (In a lawsuit the first to speak seems right, until someone comes forward and cross-examines), and also essential to the promise of neutral justice on which the American republic is based.
There is a strong pull across the political spectrum to use the shortcomings of the other "side" to justify a weakening of this principle. It will take a determined effort by those of varied political persuasions to fend off that influence. We, as The Equipped community, can prayerfully lead the way in modeling that approach.
---
U.S.
Three Weeks
​It has been more than three weeks since there has been a Speaker in the U.S. House of Representatives. In that span, there have been multiple candidate forums, nearly 20 House Republicans have run for Speaker, and four different Members have been nominated by the conference as Speaker designate. Each time, that nominee has failed to reach the 217-vote threshold needed to control the gavel, and therefore the U.S. House of Representatives remains closed for business. It remains to be seen how the current nominee, Rep. Mike Johnson (LA), will fare.
Analysis and eternal perspective: The U.S. House is in chaos and the GOP conference is deeply divided. The stalemate has prevented the chamber from sending aid to Israel in its time of need, and a government shutdown looms just over three weeks away. That said, this will resolve itself eventually and there is limited utility in our devoting attention and energy to the drama. We need leaders of integrity and a Congress that carefully stewards its responsibilities, but the current chaos neither began the disfunction or will yield a way out of it.
Jesus followers should focus our energy where it will contribute to flourishing. Yes, we should elect leaders dedicated to service rather than inclined to drama like the current situation, but even more, we should serve our neighbors and embrace the Gospel mandate of reconciliation (2 Cor. 5:18).
---
The Beautiful
Taste and See
The leaves are changing and the harvest is in! As you interact with the world this week, remember to focus on all that is beautiful!
Taste and see that the Lord is good; blessed is the one who takes refuge in him (Ps. 34:8).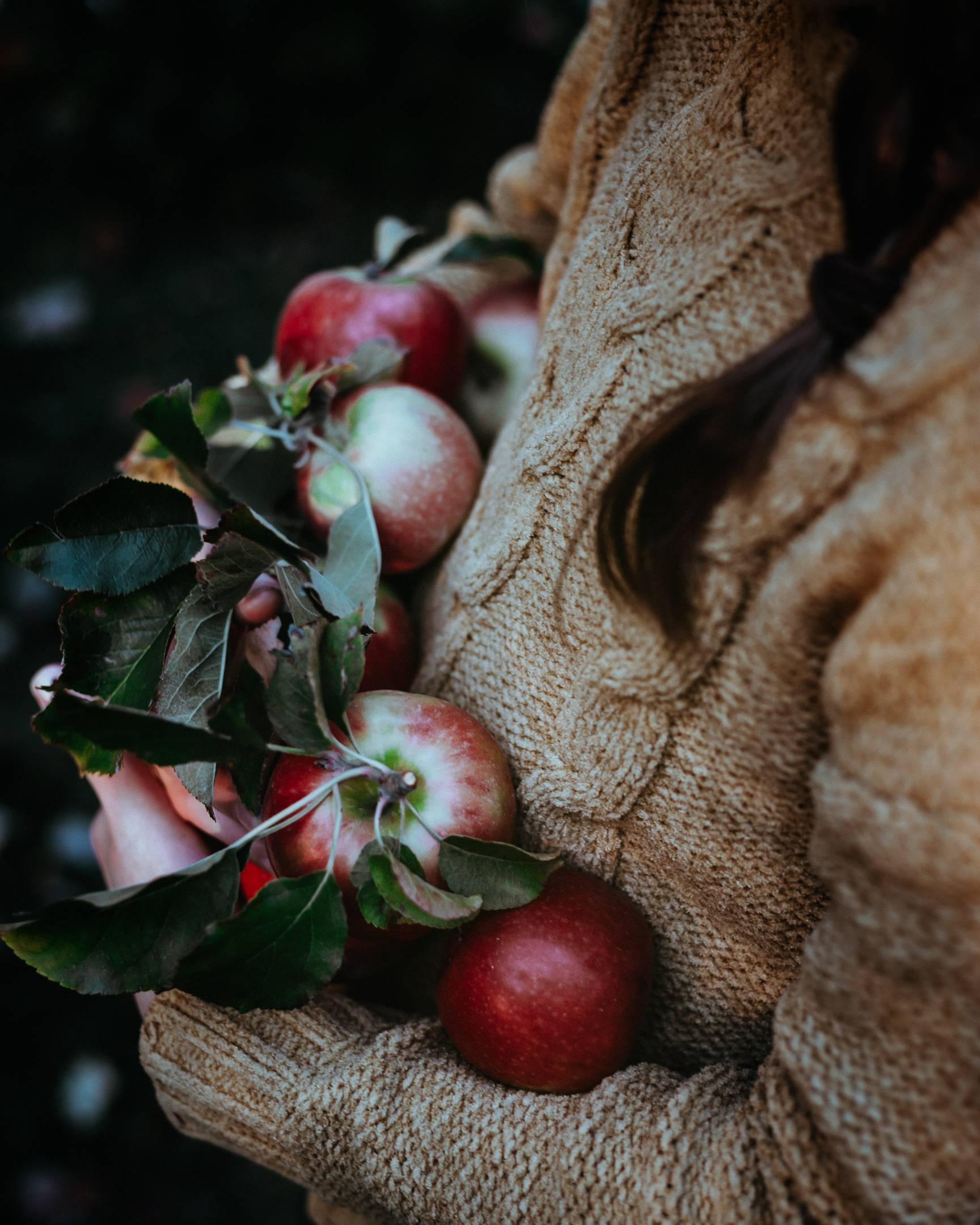 ---
As you head into the world, take your remembrance of God's mighty words with you!
Also, would you join Brooke and me in giving to help this amazing family adopt Leo? (Our nonprofit, A Fearless Life, supports adoptions from foster care. This case falls outside that scope, but is being handled by our partner placement agency, and the need is great. The Church can meet it!)
---
Share with friends, get fun rewards!
Invite your friends to try out The Equipped by using this unique-to-you referral link, and earn fun rewards when they subscribe!
PS: You have referred [RH_TOTREF GOES HERE] people so far
See how many referrals you have